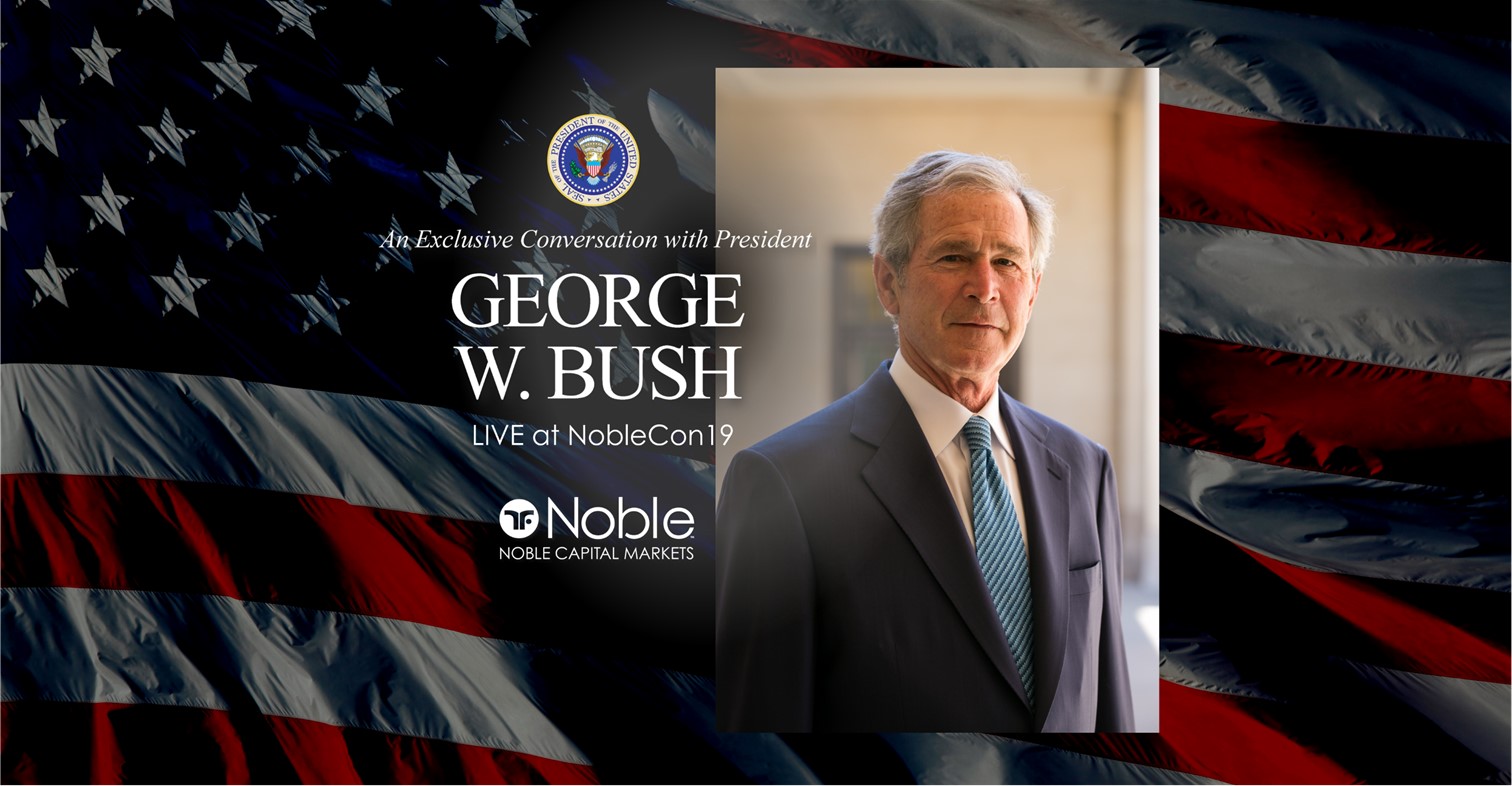 NobleCon19 will Feature an Exclusive Conversation with President George W. Bush, Moderated Live by Noble Capital Markets' Director of Research
Noble Capital Markets ("Noble") announced today that the 43rd President of the United States and Founder of the George W. Bush Presidential Center will be featured at NobleCon19, Noble's 19th Annual Emerging Growth Conference to be held at Florida Atlantic University, College of Business, Executive Education, December 3-5, 2023, in Boca Raton, Florida. Noble's Director of Research, Michael Kupinski will moderate the hour-long fireside chat with President Bush.
George W. Bush served as 43rd President of the United States of America from 2001 to 2009. As Commander in Chief, President Bush worked to expand freedom, opportunity, and security at home and abroad. His Administration reformed America's education system, restored robust private-sector economic growth and job creation, protected our environment, and pursued a comprehensive strategy to keep America safe after the terrorist attacks on September 11, 2001.
In this more casual and personable format, President Bush will discuss his time in the Oval Office and the challenges facing our nation today.
In addition to admittance to the President Bush fireside chat, attendees of NobleCon19 will be exposed to 100+ executive teams from all across North America, through formal presentations, Q&A sessions, organized breakouts and selected one-on-one meeting. Topical panel presentations, to-be-announced keynotes and networking events, and "The After" first-day evening event featuring world-class entertainment rounds out the agenda.
The objective of NobleCon19 is to build awareness for emerging growth companies that may shape the future of technology, media, telecom, medicine, manufacturing, retail, transportation and distribution, and natural resources. Most of the companies presenting will be public, thereby offering investment opportunities. Although institutional investors, licensed brokers and accredited investors will be in attendance, NobleCon19 is open to all individuals and organizations interested in learning more about these companies.
To receive NobleCon agenda updates and registration opportunities, join Channelchek.com, Noble's online investment community, listing more than 6,000 public emerging growth companies. This is an open-access site with no cost (ever) to join. Companies with market capitalization of $3 billion or less wishing to learn more about presenting at NobleCon19 can Inquire Here.
Please note: Some sessions of this conference are closed to the media with no personal recording, photography, or note-taking permitted.
About Noble Capital Markets
Noble Capital Markets, Inc. was incorporated in 1984 as a full-service SEC / FINRA registered broker-dealer, dedicated exclusively to serving underfollowed emerging growth companies through investment banking, wealth management, trading & execution, and equity research activities. Over the past 39 years, Noble has raised billions of dollars for companies and published more than 45,000 equity research reports. www.noblecapitalmarkets.com [email protected]
About Florida Atlantic University
Florida Atlantic University, established in 1961, officially opened its doors in 1964 as the fifth public university in Florida. Today, the University serves more than 30,000 undergraduate and graduate students across six campuses located along the southeast Florida coast. In recent years, the University has doubled its research expenditures and outpaced its peers in student achievement rates. Through the coexistence of access and excellence, FAU embodies an innovative model where traditional achievement gaps vanish. FAU is designated a Hispanic-serving institution, ranked as a top public university by U.S. News & World Report and a High Research Activity institution by the Carnegie Foundation for the Advancement of Teaching. For more information, visit www.fau.edu.
Media Contact:
InvestorWire (IW)
Los Angeles, California
www.InvestorWire.com
212.418.1217 Office
[email protected]
:
Florida Atlantic University
•
George W. Bush
•
NobleCon19