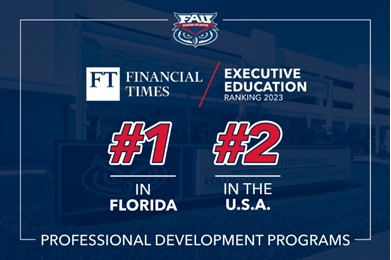 On the heels of the announcement that NobleCon19, Noble Capital Markets 19th Annual Emerging Growth Equity Conference, will be held at FAU, and the achievement of the Owls basketball team making it to the Final Four, Florida Atlantic University College of Business' Executive Education program earned a prestigious global endorsement in the 2023 Financial Times rankings for open enrollment professional education programs.
FAU ranked No. 2 in the United States and was the only university in Florida and one of only seven in the U.S. to be honored. The rankings are considered the gold standard for executive education coursework across the globe.
"It's clear that we are making a difference in the professional advancement of all our students," said Daniel Gropper, Ph.D., dean of FAU's College of Business. "I am very proud of our students, faculty and staff for making this possible."
FAU also ranked No. 1 in the U.S. and No. 4 in the world for female participation and No. 17 globally for overall satisfaction. Financial Times establishes the rankings using student feedback, course design, faculty, teaching methods and facilities.
FAU's high-quality offerings include the most diversified selection of more than 60 national and international certification and professional development programs, said Vegar Wiik, executive director of FAU Executive Education. He added that a new state-of-the-art building, the Schmidt Family Complex for Academic and Athletic Excellence, is equipped with the latest technology that allows FAU to offer top-notch programs and corporate training. "We are thrilled that this December the facility will transform into NobleCon19, with 100+ public company executive teams and the large audience expected to learn more about them," Wiik said. "And with the early announcement that the 43rd President of the United States, George W. Bush will headline, the excitement continues to build."
In addition to hosting NobleCon19, FAU's Edu-Vantage Partner Program, which works with businesses, corporations and organizations to provide a high-quality educational strategy for fulfilling their employee education packages, established partnerships with JM Family Enterprises and NextEra Energy, parent company of Florida Power & Light, to offer full-time associates full tuition for both undergraduate and graduate degrees and certifications.
NobleCon19 is scheduled for December 3-5, 2023, at FAU College of Business, Executive Education in Boca Raton, Florida. Although institutional investors, licensed brokers and accredited investors will be in attendance, NobleCon19 is open to all individuals and organizations interested in learning more about these companies.
To receive NobleCon agenda updates and registration opportunities, join Channelchek.com, Companies with market capitalization of $3 billion or less wishing to learn more about presenting at NobleCon19 can Inquire Here.
About Noble Capital Markets
Noble Capital Markets, Inc. was incorporated in 1984 as a full-service SEC / FINRA registered broker-dealer, dedicated exclusively to serving underfollowed emerging growth companies through investment banking, wealth management, trading & execution, and equity research activities. Over the past 39 years, Noble has raised billions of dollars for companies and published more than 45,000 equity research reports. For more information, visit www.noblecapitalmarkets.com or email [email protected].
About Florida Atlantic University Florida Atlantic University, established in 1961, officially opened its doors in 1964 as the fifth public university in Florida. Today, the University serves more than 30,000 undergraduate and graduate students across six campuses located along the southeast Florida coast. In recent years, the University has doubled its research expenditures and outpaced its peers in student achievement rates. Through the coexistence of access and excellence, FAU embodies an innovative model where traditional achievement gaps vanish. FAU is designated a Hispanic-serving institution, ranked as a top public university by U.S. News & World Report and a High Research Activity institution by the Carnegie Foundation for the Advancement of Teaching. For more information, visit www.fau.edu.
:
Florida Atlantic University
•
NobleCon19